DynNor
embrane Filter Press is a filter press installed with a mix of membrane plates and chamber plates. When high pressure water or compressed air is injected between the membranes, the membranes will expand and push against the filter cake, and squeeze residue water out of it. Membrane filter press can increase filtration efficiency and reduce cake moisture. It is especially suitable for materials that is compressible (like organic sludge) or applications where minimum cake moisture is desired.
Our high pressure membrane filter press adopts world leading TPE membrane technology, so that ensures reliable performance stability and long life-span. It is widely used in various industries. Cake from membrane filter press can be secondarily squeezed under pressure max 2.0 MPa by high pressure water or compressed air to realize the lowest cake residual moisture. In some wastewater treatment industries, the final cakes can be used for landfill or burning directly.The membrane filter press can realize fully automatic operation when installed with online automatic cloth washing system, electronic valves and meters.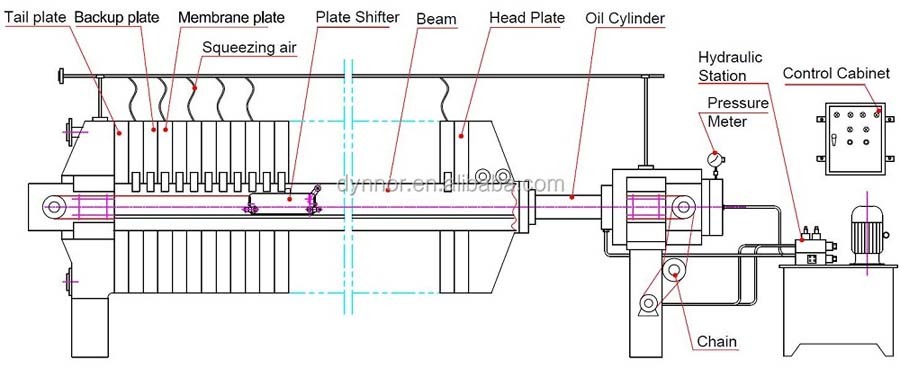 Membrane material: TPE, Rubber
Filter Plate size(mm): 870x870,1000x1000, 1250x1250, 1500x1500,2000x2000
Filtration area: 30m2 to 1000m2
Instruction of code names:

Working principle of Membrane Filter Press:

1. Feeding: Slurry is pumped into the filter press. The solids are distributed evenly on the filter cloths during the feed (fill) cycle.
2. Filtration: Solids begin to build on the filter cloth trapping the ensuing particles and building a filter cake. The filter cake acts as a depth filter for solid/liquid separation. Filtrate exits the plates through the corner ports into the manifold.
3. Filtration completed: When the correct valves in the manifold are open, the filtrate exits the press through the filtrate outlet. As the filter press feed pump builds pressure, the solids build within the chambers until they are completely full of filter cake.
4. Membrane Squeezing: Once the chambers are full, the fill cycle is over, high pressure water or compressed air will start fill in between membranes of filter plates, pushing the membrane toward the filter cakes, squeezing the filter cakes to remove any residue water.
5. Presssure relief: when squeezing is over, high pressure water(compressed air) is released from between the membranes.
6. Cake discharge: after pressure relived, the filter press is ready to discharge cakes.
(* Note: 4, 5 is only for membrane filter press)
Standard Models &Technical Data
Model

Filter area (m2)

Plate size (mm)

Cake thickness (mm)

Chamber volume(L)

No.of plates (pcs)

Filtration pressure (MPa)

Motor (Kw)

Weight (kgs)

Overall dimension LxWxH (mm)

Foundation Size (mm)

X

V

Y

Z

XZ30/870-30U

30

870

×

870

30

460

23

>=0.6

2.2

2680

3180x1400x1230

2360

700

1380

785

XZ40/870-30U

40

595

30

3050

3570x1400x1230

2750

XZ50/870-30U

50

748

38

3456

4110x1400x1230

3290

XZ60/870-30U

60

902

46

4003

4550x1400x1230

3730

XZ70/870-30U

70

1056

54

4584

4990x1400x1230

4170

XZ80/870-30U

80

1210

62

5082

5430x1400x1230

4610

XZ50/1000-30U

50

1000

×

1000

30

736

28

>=0.6

4

4128

4040x1500x1400

3120

780

1480

870

XZ60/1000-30U

60

889

34

4636

4460x1500x1400

3480

XZ70/1000-30U

70

1041

40

5143

4760x1500x1400

3840

XZ80/1000-30U

80

1193

46

5651

5120x1500x1400

4200

XZ100/1000-30U

100

1475

57

6628

5780x1500x1400

4860

XZ120/1000-30U

120

1777

69

7644

6500x1500x1400

5580

XZ100/1250-30U

100

1250

x

1250

30

1468

36

>=0.6

4

8307

5020x1800x1600

3970

850

1740

995

XZ120/1250-30U

120

1746

43

9308

5470x1800x1600

4430

XZ140/1250-30U

140

2063

51

10455

5990x1800x1600

4950

XZ160/1250-30U

160

2341

58

11492

6450x1800x1600

5400

XZ180/1250-30U

180

2619

65

12494

6905x1800x1600

5860

XZ200/1250-30U

200

2896

72

13504

7360x1800x1600

6310

XZ220/1250-30U

220

3214

80

14652

7880x1800x1600

6830

XZ250/1250-30U

250

3650

91

16227

8600x1800x1600

7550

XZ200/1500-35U

200

1500

x

1500

35

2998

49

>=0.6

7.5

20030

6400x2200x1900

5250

1170

1990

1070

XZ250/1500-35U

250

3594

61

22978

7225x2200x1900

6090

XZ300/1500-35U

300

4347

74

26026

8130x2200x1900

6990

XZ350/1500-35U

350

5043

86

29220

8950x2200x1900

7840

XZ400/1500-35U

400

5796

99

32574

9880x2200x1900

8750

XZ450/1500-35U

450

6492

111

35586

10690x2200x1900

9590

XZ500/1500-35U

500

7187

123

38606

11560x2200x1900

10430

XZ600/2000-40U

600

2000

x

2000

40

8926

85

>=0.6

15

49000

11100x3000x2500

9200

1660

2000

1050

XZ700/2000-40U


700

10380

99

53000

12200x3000x2500

10300

XZ800/2000-40U

800

11210

107

57000

13350x3000x2500

11450

XZ900/2000-40U

900

13290

127

61000

14500x3000x2500

12600

XZ1000/2000-40U

1000

14740

141

65000

15600x3000x2500

15600